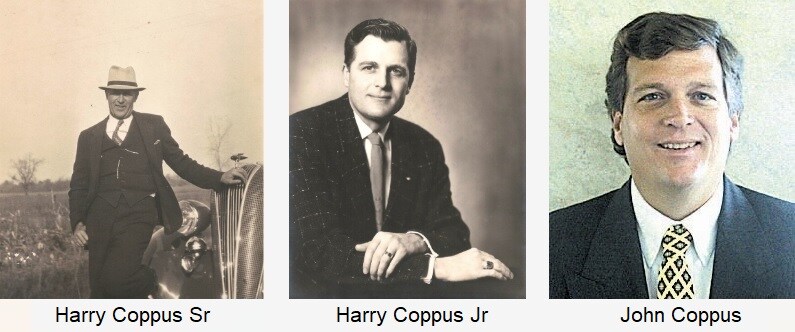 Coppus Motors was founded in 1927 by Harry Coppus Sr. as Coppus Motors Sales, located at 133 West Center Street in Fostoria, OH.  The company initially sold Hupmobile, Pontiac, Oakland, and Plymouth.  In 1933, Coppus Motors moved to 116 East Market Street in Tiffin, the current location of Burns Electric.  Studebaker, Hudson, International Trucks, Shultz House Trailers, and used cars were sold at this location.  Then in 1937, Coppus Motors moved again just down the street to 145 East Market where they sold Studebaker, used cars, and in 1938 took on Nash.  In 1940, Coppus Motors built a new facility on Madison Street, across from Calvert High School, where they stayed for almost 50 years.
In the late 40's and early 50's Coppus Motors began selling many different imports including MG, Triumph, Jaguar, Austin Healy, Morris, Porsche, Volkswagen, Alfa Romeo, Singer, Isetta, and Renault while continuing with Nash and Studebaker.  Nash eventually evolved into Rambler and then American Motors.  Our current Coppus Motors lineup began to emerge in 1954 with Mercedes-Benz, in 1964 with Dodge, and in 1976 with Jeep.  Throughout the years, Coppus Motors continued to expand and purchase surrounding property.
In 1956, the initial meeting of the Mercedes-Benz Club of America was held at Coppus Motors in Tiffin, Ohio. The Mercedes-Benz Club of America now has over 30,000 members throughout the United States.
Coppus Motors eventually moved in 1988 to the present location, 2190 West Market Street.  One year later, Coppus Motors purchased the Chrysler franchise and are now selling Chrysler, Dodge, Jeep, Ram, and Mercedes-Benz.  With customer convenience in mind, Coppus Motors and Tom Zirger built Seneca Car Wash in 1998 to provide a free car wash to customers after their service visits, as well as to be open to the public.  Then in 2003, a climate controlled service drive was added to the building for customer comfort during the drop-off and pickup process of their vehicles for service.
In 2012, Coppus Motors made a commitment to the future, which included a complete renovation of the facility and the purchase of more land.  The current franchise lineup was complete in 2013 with the addition of Sprinter.  To accommodate Sprinter vehicles, Coppus Motors built a 5200 square foot addition to the Service Department.  In 2014, Coppus Motors looked to fill additional customer needs by starting Precision Window Tinting & Detailing. Then in 2019, Coppus Motors purchased the old Bush building next door to expand the business and move in Precision Window Tinting.
During the Depression in 1934, Coppus Motors with only 4 employees hit a low point selling just 14 new cars at a small profit.  In 2019, Coppus Motors sold almost 1,000 new and pre-owned vehicles and had over 40 employees.
Harry Coppus Sr. built the business on honesty, integrity, ethical business practices, and a customer-first approach.  The focus of Coppus Motors has been to exceed the expectation of all their customers in both sales and service while providing a pressure-free environment.  This helped Coppus Motors establish an exceptional reputation from the beginning and those principles have been continued by both the founder's son, Harry Coppus Jr. and grandson, John Coppus.  Harry Coppus Jr came into the business in 1945 and John Coppus in 1980.  Over three generations of family ownership, Coppus Motors is looking forward to reaching their 100th year in 2027.